What's the difference between linoleum and vinyl flooring?
See More about What's the difference between linoleum and vinyl flooring? >>>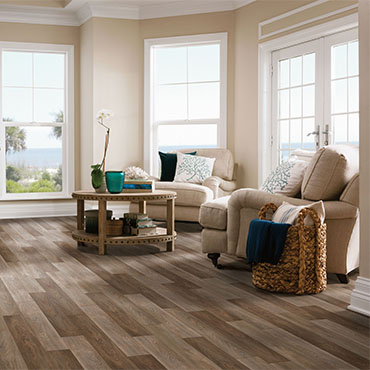 Take a closer look at the similarities and differences of two resilient floors.
Linoleum flooring and vinyl flooring often get mistaken for each other by homeowners who are searching for
vinyl linoleum flooring that will look good for the long haul. Both floor types are indeed tough and long-lasting, and can be installed pretty much anywhere. But there are some important differences between the two.
Vinyl and vintage linoleum have a very different construction.
All types of vinyl flooring — luxury vinyl flooring (or LVT), rigid core hybrid flooring, vinyl sheet and vinyl tile — are manufactured in layers.


The top wear layer is a finish (such as urethane) that protects floors from scratches and stains.


Next is the image layer, which can look like hardwood or stone, or a pattern or solid color. Some vinyl floors have texture that matches the image, making wood and stone styles look and feel a lot like the real thing.


The core determines how dent- and water-resistant a vinyl product is. Depending on the product, the core may also add rigidity. Some vinyl flooring feels flexible before you install it (like vinyl sheet, which comes in a roll) and some feels much firmer (like rigid core products, where planks or tiles snap together).


On some vinyl flooring products there is an attached underlayment. This can add cushion and make floors quieter underfoot.


Linoleum flooring is made differently. It's a mix of renewable natural materials: primarily linseed oil, which comes from flax seeds, plus other natural ingredients such as jute, cork powders, wood flours and tree resins. The design is not on a separate image layer, but is embedded throughout the materials. Additionally, Linoleum floor tiles may require a protective seam sealant
Homeowners usually prefer vinyl, and view it as a more modern flooring.
While either vinyl or linoleum can be used in residential redesigns, vinyl has become more popular in recent years because of its style selection, how easy it is to maintain over time, and the ease of installation. And because with vinyl you can get flooring looks like real hardwood and natural stone, people are decorating with vinyl in every room of the house (even living areas and bedrooms!).
Linoleum has been around for more than a century and used to be common in homes, but as increasingly durable and realistic-looking modern flooring options have emerged, linoleum has become less popular for residential use. It's an excellent choice in settings that demand a long-lasting floor that holds up under heavy wear — which explains its frequent use in hospitals, schools and commercial spaces.
Vinyl flooring offers a greater variety of style options than linoleum.
Vinyl flooring comes in a variety of sub-types — luxury vinyl tile (also called LVT), vinyl sheet, vinyl tile, and even rigid LVT. Among these you'll find an immense variety of styles and colors to help you achieve nearly any interior design vision.


Highly realistic visuals and textures that mimic hardwood and natural stone


On-trend styles: reclaimed and rustic woods, multi-width planks, and finishing effects like liming, scraping and white-washing, to name a few


Planks or tiles in a range of sizes, or vinyl sheet which can mimic the look of planks or tiles but comes in a roll


Linoleum doesn't have the same style versatility in terms of mimicking other flooring types. However it can be great for creating large patterns, embedded designs or blocks of color. Because the product is dyed, you can also get a wide range of colors, from subtle to bold.
Both linoleum and vinyl offer durability, but vinyl comes out on top.
If you're seeking a floor that will remain beautiful for many years to come, you can't go wrong with either linoleum or vinyl flooring — however linoleum requires more effort to retain its durability and it doesn't hold up against water and wear quite as well as vinyl.
Water Resistance
Sheet linoleum is made of natural materials that are much more susceptible to damage from water and cleaning products, so the seams must be sealed directly after installation and then re-sealed periodically. If this maintenance is skipped, the floor loses its water resistance and can also begin to curl up at the edges. Because of its potential vulnerability to moisture and humidity, bathroom and laundry room installations are not recommended.
On the other hand, most vinyl flooring (especially LVT, vinyl sheet and rigid core hybrid flooring) is waterproof without the need of a sealant or any ongoing maintenance, and most vinyl products can be installed in any room on any level of the home.
Scratch, Stain and Dent Resistance
Some vinyl products also have hardened wear layers designed to provide maximum scratch and stain resistance — for example, Armstrong Flooring products with Diamond 10® Technology: Duality™ Premium vinyl sheet and CushionStep™ Better vinyl sheet, or Vivero luxury vinyl flooring. Other vinyl products, like PRYZM rigid core hybrid flooring are designed for superior dent resistance from things like cleats, heavy appliances and dropped objects.
Linoleum floors aren't as resilient against dents and dings as most vinyl floors are, and they can be damaged.
Vinyl flooring has more (and easier) installation options.
While both linoleum and vinyl are relatively easy to install as compared to other flooring types, vinyl does have a bit of an edge because it offers several installation options.
Most linoleum is in sheet form, which requires full-spread adhesive. Since linoleum is so stiff it can be difficult for a DIYer and may be best left to a professional installer. For the best durability, most installations recommend applying a protective seam sealant right away. Linoleum tiles are becoming more widely available, and they can usually be installed with adhesive.
Vinyl flooring can be installed in a number of ways, depending on the type you choose:


Luxury vinyl tile (LVT) - You can find repositionable peel-and-stick, glue-down or angle-locking varieties of LVT, and many collections offer multiple installation methods so you can pick what you're comfortable with (and what works best for your space).


Rigid core hybrid flooring - This vinyl hybrid has a rigid construction that allows for angle-locking installation, where planks or tiles snap together side-to-side and end-to-end to form a "floating floor."Adhesive application is optional.


Vinyl sheet - Like linoleum, vinyl also comes in sheet form that usually requires a full-spread adhesive. Vinyl sheet is much easier to work with than linoleum since it isn't as stiff.


Vinyl tile - These peel-and-stick tiles are the most DIY-friendly option and great for small spaces.


Linoleum can be very unforgiving of subfloors that aren't perfectly level, causing floors to wear out faster than they otherwise would. Many vinyl flooring collections have attached underlayments that allow for installation over subfloors with minor irregularities. For details, refer to each product's specific installation instructions.
Both are easy to clean, but linoleum requires some extra caution.
Routine cleaning to get rid of dust and dirt is a breeze for either flooring type. Simply sweep, dust mop or vacuum. Spills and stains can be wiped up with a damp cloth. For regular wet cleaning or restorative maintenance, be sure to use the specific products recommended by the manufacturer. Certain cleaning products can be damaging, especially to linoleum.
---
NOTE:
AJ Hubbard & Sons does not carry every style of product. Check with us first about a particular product or to see if your product choice is available for special order.
---

---
Armstrong Luxury Vinyl Floors
Our luxury vinyl tile creates stunning floors that are meticulously designed to look like hardwood or stone, and built to endure the busiest lifestyles. From time-worn wood to modern marble, enjoy nature's diverse beauty throughout your home — in the kitchen, bath, basement and beyond.
---
Profile
|
Website