Nine reasons we love flat weave rugs (and you should, too!)
See More about Nine reasons we love flat weave rugs (and you should, too!) >>>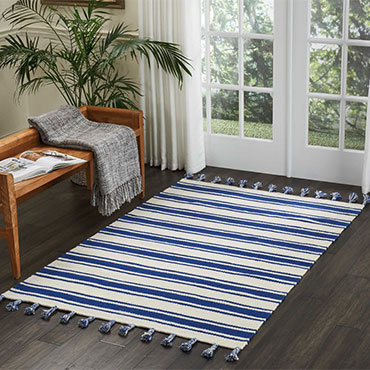 If you're looking for a versatile, eye-catching accent, flat weaves provide a flexible flooring solution.
What are flat weave rugs?
Flat weave rugs are likely the oldest type of rug around, created using a simple weaving technique that yields beautifully intricate patterns and rich colors. Threads are woven on a loom into colorful patterns, without the pile or backing you'd find on knotted or tufted rugs. As a result, flat weaves tend to be lighter, more flexible, and reversible — since the pattern is the same on both sides of the rug.
There are any number of variations on the basic technique, with different regions around the world adopting different patterns and styles. Kilims, Dhurrie rugs, and Navajo rugs are just a few of the styles that may differ in some ways, but still display the same general weaving skill.
What are the advantages of flat weave rugs?


Flat weave rugs include wide ranges of style. Usually when we think of flat weave rugs, we think of either Southwestern style rugs with Native American tribal patterns, or fringed rugs with a Middle Eastern flavor. But more and more rug designers are creating flat weave rugs with a modern flair. There's no denying that a flat weave rug can lend a casual tone to a room, but you can find plenty of contemporary designs with sleek, modern patterns and colors that fit in with the most sophisticated of interior designs.


Flat weave rugs come in a range of styles and patterns, from more traditional Southwestern tribal patterns to contemporary colors and designs, such as the La Jolla flat weave rug from the Calvin Klein San Diego Collection.


Flat weave rugs are easy to move. Not having a pile means that flat weave rugs use substantially less material, so they're lighter than other types of rugs. The lack of a backing means they're much more flexible, and can be easily folded or rolled up. If you live by yourself and like to rearrange your furniture, or if you like to make seasonal decor changes, this can be a real advantage!


Flat weave rugs are durable. The weave style means the rug tips aren't constantly being crushed underfoot. While the rug can certainly wear over time, it won't develop flat areas or paths like you might see in loop pile or cut pile rugs. That's ideal for areas in your home with lots of foot traffic going over the same parts of the rug, such as a hallway or a sitting area with only one or two paths to exit the furnished space.


Flat weave rugs are versatile. Flat weaves make great layering elements either when used with other flat weaves or with different textured rugs such as shag or hair-on-hide. Because they're more pliable and lighter, flat weaves aren't just for the floor. They work great as a throw or furniture accent. They can even be used as wall hangings.


Flat weaves fit well with furniture. A pile-less rug can be advantageous, especially if you want to use the rug under furniture. Chair legs won't leave indentations as they do with hand-tufted or hand-knotted rugs. And since the rug is thinner, you don't have to worry about tables or chairs tilting as much if they sit half-on, half-off the rug. This also makes sliding chairs out of the way easier.


Flat weave rugs do not shed. Without a cut pile or constant friction on the ends of threads, flat weave rug fibers typically won't shed as much as other types of rugs — even in the case of wool, which typically sheds more than other rug materials.


Flat weave rugs are relatively inexpensive. Flat weave rugs are wonderful examples of fine craftsmanship, but they take much less time to make than hand-tufted or hand-knotted rugs. As a result, they're easier to make and typically cost less. If you're decorating on a budget, flat weave rugs will almost always provide a lower-cost alternative that still provides a stylish accent.


Flat weave rugs are reversible. We're not suggesting that if you spill something on your flat weave rug, the solution is to just flip it over. But still … if you wanted to, you could do that. The weave creates an identical front and back pattern


Flat weave rugs are easier to clean. They can be vacuumed (note that we always recommend turning your beater bar off first) without risk of pulling up loose threads and snagging or damaging the rug. Just be careful that the rug is anchored to the floor, since light rugs can easily slip and shift under a vacuum. Because of their relative light weight and flexibility, you can shake or beat the rugs to knock off loose dust or particles, which don't cling to flat weave rugs as much as they would to a shag or high-pile rug. It's also much easier to quickly blot spills, which can quickly soak into pile threads and cotton backings.


---
NOTE:
AJ Hubbard & Sons does not carry every style of product. Check with us first about a particular product or to see if your product choice is available for special order.
---

---
Nourison Area Rugs
We offer an extensive range of area rugs in trend-setting colors and designs. Our quality, craftsmanship, and proprietary finishing techniques make each piece a work of art. Our custom capabilities are second to none. Handmade or machine made, residential or commercial, there is a custom solution. We have the most diverse custom rug program in the industry. — Fifty to Infinity.
---
Profile
|
Website